The Museum of Naval Construction, located in the Herrerías building, has managed to maintain the architectural structure typical of the 18th century. The important thing to note is that it houses two floors dedicated to the history of shipbuilding. On the ground floor we can access the different construction techniques, where we can also see in more detail the operation and the different parts of a ship.
On this visit we can see the wreck of the Fragata Magdalena, sunk in the Vivero estuary in 1810 and recovered by the Navy between the 1970s and 1980s.
On the upper floor there are a series of themed rooms such as the one dedicated to the Astano shipyard, called "Miracle in the Estuary". Other rooms are dedicated to the Navy, its Ships and its Schools; the Shipping Companies, the Ports, etc.
Collection: Multimedia
Chronology: XVIII
Scope: Secondary Education, Baccalaureate, University
Link: https://artsandculture.google.com/streetview/museo-naval-de-ferrol/RgGgm5kjuo5W_w?sv&sv_lng=-8.232181519069037&sv_lat=43.48175541667216&sv_h=46.35211697260901&sv_p=-4.7530014751139475&sv_pid=2RTOZx_GSogAAARAtD3rAQ&sv_z=1
Resource type: Web
Source: Museo de la Construcción Naval de Ferrol
Language: Spanish
Owner: Daniel Maldonado Cid (Modernalia)
Copyright: © EXPONAV
Abstract: Virtual visit to the Ferrol Shipbuilding Museum, where you can learn about the peculiarities of shipbuilding in the 18th century
Image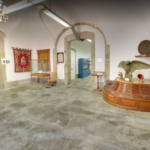 Tags