This census draws on the experience of the Floridablanca Census (1787). It was commissioned in 1797 and published in full in 1801. However, the data provided by it should be taken with caution; rather, it should be complemented with other historical sources. We can find data by provinces on men, women, bachelors, married, widowed, clerics, and numerous trades such as merchants, craftsmen, farmers or fishmongers.
Collection: Statistics
Project: 3. Rural world and urban world in the formation of the European identity., 4. Family, daily life and social inequality in Europe.
Chronology: XVIII, XIX
Scope: Secondary Education, Baccalaureate, University
Link: https://www.ine.es/ss/Satellite?L=es_ES&c=INEPublicacion_C&cid=1259924879640&p=1254735110672&pagename=ProductosYServicios%2FPYSLayout&param1=PYSDetalleGratuitas
Resource type: Historical source
Format: 3 volumes
Source: Instituto Nacional de Estadística
Language: Spanish
Date: 1994
Owner: Pablo Ballesta Fernández (Modernalia)
Copyright: © Instituto Nacional de Estadística
Abstract: Facsimile of the Godoy Census (1797) published in 1801 and republished by the INE
Image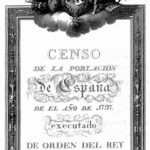 Tags