The islands of St Kitts, Nevis and St Eustatius in the Leeward Carib archipelago were occupied by the French and English in 1627. The Spanish expedition was commanded by Don Fadrique de Toledo y Osorio, first Marquis of Villanueva Valdueza (captain general of the Navy in the ocean) and Don Antonio de Oquendo (admiral). After capturing several corsair ships on the island of Nieves, he landed on the island of San Cristóbal, where he took two French forts and one English fort in just a few days and with hardly any losses, seizing 200 cannons and taking 2,300 prisoners. After the short-lived success and the occupiers' tobacco plantations burned, Don Fadrique left the island for Portobelo and Havana without leaving a garrison, which led to it being taken by his enemies in 1630. Don Fadrique de Toledo was appointed captain general of the Ocean Sea in 1618, with important successes in the Mediterranean and Brazil. However, at the time of the representation he had fallen into disgrace when he clashed with the Count Duke of Olivares over a proposed expedition to Brazil, as the means demanded by Don Fadrique did not fit in with the Count Duke's idea. He was therefore sent to prison in 1633 by the Council of Castile, which banished him in perpetuity and deprived him of his offices, income and possessions.
Collection: Images
Project: 5. Power and powers in the history of Europe: oligarchies, political participation and democracy., 6. Under a cloak of terror: violence and armed conflict in Europe.
Chronology: XVII
Scope: Secondary Education, Baccalaureate, University
Link: https://www.museodelprado.es/coleccion/obra-de-arte/recuperacion-de-la-isla-de-san-cristobal/119c4fc5-4fa0-4a5a-ab42-9d513b6bea08?searchid=a6b09c8c-e578-fe41-c19e-5a5b7547873a
Resource type: Image
Format: Oil on canvas (297 x 311 cm)
Source: Museo Nacional del Prado (Madrid)
Language: Spanish
Date: 1634
Owner: Álvaro Romero González (Modernalia)
Identifier: P000654
Copyright: Museo del Prado (Madrid)
Abstract: Representation of the recovery of the island of San Cristóbal, a work that forms part, along with others, of the commemoration of a series of land and naval victories that were won by the armies of the Hispanic Monarchy during the first period of the Thirty Years' War. These canvases were destined for the Salón de Reinos of the Buen Retiro Palace.
Image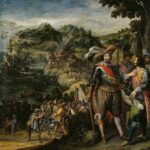 Tags