Sixth installment in the Civilization series. The game follows the series' signature model of civilisation creation and development. There are improvements to the growth of urban centres (which grow in size on the hexagonal map), and to the way military units can be stacked on the same squares. It features further development of the technology tree, renamed the research system, and the artificial intelligence of opponents. It offers the possibility to play with more than 30 civilisations and, apart from the campaign mode, includes 6 historical scenarios.
Collection: Aplications
Project: 2. Social and economic impact of technological revolutions in Europe., 5. Power and powers in the history of Europe: oligarchies, political participation and democracy.
Chronology: XV, XVI, XVII, XVIII
Scope: Secondary Education, Baccalaureate, University
Link: https://store.steampowered.com/app/289070/Sid_Meiers_Civilization_VI/
Resource type: Video game
Format: Multimedia
Source: 2K Games
Language: Spanish
Date: 2016
Owner: Antonio Carrasco (Modernalia)
Copyright: Firaxis Games
Abstract: Management and construction strategy video game, based on the development of a civilisation from prehistoric times to the future.
Image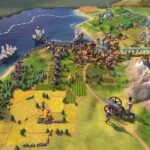 Tags