With this resource, the authors highlight the social mobility of the peasantry at the end of the Ancien Régime in the municipality of Lorca (Murcia). The relationship between day labourers, tenant farmers and tenant farmers shows a decrease in the number of day labourers over the course of their life cycle, while the group of farm labourers remains stable. The change of occupation among day labourers, who account for more than 50% of the heads of household aged between 20 and 25, becomes more pronounced from the age of 50 onwards.
Collection: Graphics
Project: 3. Rural world and urban world in the formation of the European identity., 4. Family, daily life and social inequality in Europe.
Chronology: XVIII
Scope: Secondary Education, Baccalaureate, University
Link: https://www.adeh.org/revista/2015,%202/Demografia%20XXXIII,%20II,%202015%20Francisco%20y%20Ana%20ChacA%CC%82%C2%A2n.pdf
Resource type: Graph
Format: Line chart
Source: Chacón Jiménez, F., Chacón Martínez, A. (2015). "Hogar y Familia: corrientes interpretativas y realidades sociales. Los ejemplos de movilidad de la población (1771) y movilidad social (1797) en Lorca", en Revista de Demografía Histórica, XXXIII, 2, p. 51.
Language: Spanish
Date: 2015
Owner: Pablo Ballesta Fernández (Modernalia)
Copyright: ©Revista de Demografía Histórica ©Francisco Chacón Jiménez ©Ana Chacón Martínez
Abstract: Graph showing social mobility within the peasantry of Lorca (Murcia) at the end of the Ancient Regime.
Image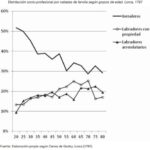 Tags