The predominance of the rural over the urban world in Guadalajara was overwhelming until a few decades ago. The present-day province had its homonymous city which, according to counts, never concentrated more than 3.8% of the population; its towns, villages and farmhouses always housed more than 95% of its inhabitants. According to the calculations, the 1591 count exaggerates the size of the neighbourhood, as it takes into account different conditioning factors: the census took place during a phase of demographic expansion in Guadalajara during the fifteenth century, which reached the end of the 1580s, and during the recession, a birth rate of less than 35 ‰ is too low. On the other hand, as some authors point out, those who took the census of the millions relied on the local censuses of the ordinary and extraordinary service, and often tended to increase the number of neighbours so that the burdens could be shared. After various trials, a birth rate of 39 ‰ has been chosen because by 1590, the province was entering a phase of demographic recession, this percentage indicator being the rate that minimises the sharp contrast between the decline in baptisms and the population. The correction in the census of millions, which reduces the provincial number of inhabitants by 10.9%, is somewhat arbitrary, although it is based on the baptismal registers.
Collection: Statistics
Project: 3. Rural world and urban world in the formation of the European identity., 4. Family, daily life and social inequality in Europe.
Chronology: XVI
Scope: Secondary Education, Baccalaureate, University
Link: https://www.historiaagraria.com/FILE/articulos/HA57__Llopis-Sebastian-Velasco.pdf
Resource type: Statistics
Format: Table
Source: Llopis Agelán, Enrique, Sebastián Amarilla, José Antonio y Velasco Sánchez, Ángel Luis, «La debilidad demográfica de un territorio de la España interior. La población de Guadalajara, 1530–1860», Historia Agraria, 57 (2012), pp. 13–45.
Language: Spanish
Date: 2012
Owner: Álvaro Romero González (Modernalia)
Copyright: © Enrique Llopis Agelan, ©José Antonio Sebastián Amarilla, ©Ángel Luis Velasco Sánchez © Revista de Historia Agraria
Abstract: Evolution of the population of Guadalajara in 1591 through original and corrected data
Image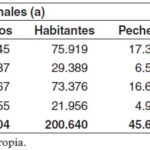 Tags