The image represents one of the oldest techniques for catching tuna, which takes advantage of the migration of tuna from the Atlantic to the Mediterranean and their passage through the Strait of Gibraltar. It consisted of installing a labyrinth of nets in the tuna's passage, close to the coast, in order to catch them. During the Modern Age, the Duke of Medina Sidonia was in charge of managing the traps in the southern Atlantic and the Mediterranean, after his predecessors received this concession from the king in the 13th century. Among the former was that of Zahara de los Atunes. The House of Medina Sidonia managed the Almadrabas until the beginning of the 19th century. The image shows the moment when the tuna is caught, and its supervision by the ducal authorities.
Collection: Images
Project: 9. Travels and travelers: economic, social and cultural connections.
Chronology: XVIII
Scope: Primary Education, Secondary Education, Baccalaureate, University
Link: http://www.agfcms.com/agfcms_iaph/1748-vista-almadraba-zahara-atunes/001_img.html
Resource type: Image
Format: Paper. 310x410 mm. Polychrome
Source: Archivo General Fundación Casa Medina Sidonia
Language: Spanish
Date: 9/23/2020
Owner: María del Mar Felices de la Fuente (Modernalia)
Identifier: ES.11031.AGFCMS/1.1/Medina Sidonia, leg. 3958, doc. 01; Signatura: AGFCMS, leg. 3958, doc. 01
Copyright: Condiciones de acceso: Consulta libre por el carácter histórico de la documentación, conforme al artículo 57 de la Ley 16/1985, de 25 de junio, del Patrimonio Histórico Español. El acceso al archivo está regulado también por la normativa de la Fundación Casa de Medina Sidonia
Abstract: The image shows a view of the almadraba of Zahara de los Atunes (Cádiz) from land. In the past, tuna traps were an important part of the fishery and offered high economic returns to whoever was in charge of their exploitation. The catches could be kept salted and marketed far from their place of origin.
Image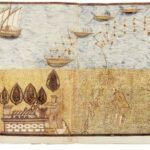 Tags