Until the 1970s, the eighteenth-century Indian factories had constituted the continuity of Catalan industry during the nineteenth century. In this sense, Catalan industrialisation did not respond to an exclusive Barcelona model, but rather emerged as a response to the diverse productive structures of the territory, combining the new fibre with new technologies. Nevertheless, cotton reinforced Barcelona in the industry by being the point of entry and distribution. The geography of cotton spinning was completed with another geography of weaving: hand weaving. Spinning and weaving, at least in the Catalonia of the bergadanas, were two sides of the same coin. Spinning and weaving complemented each other, although the weight of the weaving did not coincide with that of the spinning. It is therefore necessary to place hand weaving in its rightful place, using the statistics on Catalonia in 1841 as a starting point.
Collection: Statistics
Project: 2. Social and economic impact of technological revolutions in Europe., 9. Travels and travelers: economic, social and cultural connections.
Chronology: XVIII, XIX
Scope: Secondary Education, Baccalaureate, University
Link: https://www.cambridge.org/core/journals/revista-de-historia-economica-journal-of-iberian-and-latin-american-economic-history/article/abs/bergadanas-continuas-y-mules-tres-geografias-de-la-hilatura-del-algodon-en-cataluna-17901830/27A03681D2C7339C4B51436041EA66E8
Resource type: Statistics
Format: Table
Source: Ferrer i Alòs, Llorenç, «Bergadanas, continuas y mules. Tres geografías de la hilatura del algodón en Cataluña (1790–1830)», Revista de Historia Económica, Journal of Iberian and Latin American Economic History, 22, 2 (2004), pp. 337–386.
Language: Spanish
Date: 2004
Owner: Álvaro Romero González (Modernalia)
Copyright: © Llorenç Ferrer i Alòs, © Revista de Historia Económica
Abstract: Establishments in Barcelona, Gerona and Lleida of the looms in 1841
Image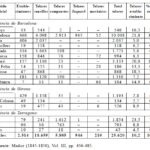 Tags