The player must build colonies on small islands and from there manage resources, explore, establish diplomatic relations and trade with other islands. It allows the creation of scenarios using an editor, which can be useful for the teacher.
Collection: Aplications
Project: 2. Social and economic impact of technological revolutions in Europe., 9. Travels and travelers: economic, social and cultural connections.
Chronology: XVII
Scope: Secondary Education, Baccalaureate, University
Link: http://anno.uk.ubi.com/pc/history1602.php
Resource type: Video game
Format: Multimedia
Source: Ubisoft
Language: English
Date: 1998
Owner: Antonio Carrasco (Modernalia)
Copyright: Max Design
Abstract: Colonial-oriented construction and management video game set in the 17th century.
Image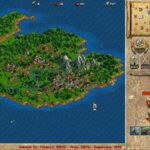 Tags