Fourth installment in the Assassin's Creed series. It continues the plot of the previous title, closing the story of Ezio Auditore. It shares the same graphics engine, design and gameplay as its predecessor -although the use of a grappling hook is implemented to improve mobility through the scenarios-. The plot shifts to the East, specifically to a Constantinople newly christened Istanbul after the Ottoman conquest, although there are missions set in the underground city of Derinkuyu in Cappadocia, Masyaf in modern-day Syria, and locations in the Orontes Valley. It is significantly less historically accurate than its predecessor titles, but is notable for its rich setting, detailed recreation of cities and interaction with the environment and other characters.
Collection: Aplications
Project: 7. Persecuted by justice and powers: rebels, political dissidents and criminals in the history of Europe.
Chronology: XVI
Scope: Secondary Education, Baccalaureate, University
Link: https://store.steampowered.com/app/201870/Assassins_Creed_Revelations/
Resource type: Video game
Format: Multimedia
Source: Ubisoft
Language: Spanish
Date: 2011
Owner: Antonio Carrasco (Modernalia)
Copyright: Ubisoft
Abstract: Third-person action videogame, depicting different aspects of life in the Modern Age
Image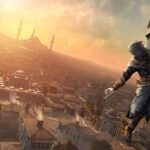 Tags