The demand for agricultural wage labour was highly seasonal, limiting the possibilities of converting it into a regular source of income. The development of agrarian capitalism contributed to this, which led to a productive specialisation in which the participation of women was lower than in the manufacturing and service sectors. The S'Estorell estate was located in the parish of Binissalem, at the foot of the Tramontana mountain range, and was the largest estate in the municipality and one of the ten most profitable on the island, with a valuation of 52,000 pounds according to the land registry of 1685. It covered 520 hectares, occupying the Almandrá valley up to the first peaks of the mountain range in the villages of Alaró and Selva. The labour contracts for day labourers took on different modalities according to technical and social considerations through different contractual modalities: piecework, daily contracts or day labour. The daily wage contract was clearly the dominant type of contract for all work: 81% of expenditure and 88% of working days were spent on skilled work (grafting olives or pruning vines) or unskilled work (olive picking, digging, etc.). Monthly contracting represented 3.4% of expenditure and 3.9% of total wages. This modality consisted of giving a team of labourers the task of digging or digging for a few months, whose salary was equivalent to that of a farm labourer (35-40 salaries per month). However, the account books do not specify whether they were provided with food. On the other hand, piece-rate contracts represented 15.7% of the expenditure and 6.3% of the number of working days, where women are rarely hired in this modality: 0.1% in terms of expenditure and number of working days. Finally, daily contracts were predominant, while piecework contracts accounted for a small proportion of the number of persons and wages contracted.
Collection: Statistics
Project: 2. Social and economic impact of technological revolutions in Europe., 3. Rural world and urban world in the formation of the European identity.
Chronology: XVII
Scope: Secondary Education, Baccalaureate, University
Link: https://www.historiaagraria.com/FILE/articulos/RHA80_jover_pujadas.pdf
Resource type: Statistics
Format: Table
Source: Jover–Avellà, Gabriel y Pujadas–Mora, Joana María, «Mercado de trabajo, género y especialización oleícola: Mallorca a mediados del siglo XVII», Historia Agraria, 80 (2020), pp. 37–69.
Language: Spanish
Date: 2020
Owner: Álvaro Romero González (Modernalia)
Copyright: © Gabriel Jover-Avellá, ©Joanna María Pujadas-Mora © Revista de Historia Agraria
Abstract: Professional modalities and hiring according to social status in a 17th century Mallorcan province
Image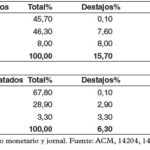 Tags