The privateering patent was a document issued by the authorities of a territory to the owners of a ship, giving them permission to attack ships or populations of enemy nations. In this way the owner, who had to have significant economic power to be able to arm a ship, became part of the navy of the issuing country or city. Privateer's patents were widely used in the Modern Age when nations could not afford their own navies or when they were not large enough. Privateering was, therefore, a legal activity regulated by the Spanish authorities, which was organised on the basis of successive Royal Ordinances. Thanks to privateering, many private individuals made it their way of life, many others amassed fortunes and others carved out a career in the Royal Navy that would otherwise have been more difficult. During the modern period, privateers, always under the obligatory "privateering patent", acted as a war fleet at the service of the Crown, and were also essential as coastguards, since, in certain territories, such as the Peninsula, it was materially impossible to have a Royal Navy squadron that could protect so many nautical miles of coastline, or that could guard all the maritime routes. The privateer would take advantage of all this, as he would obtain part of the booty, as would the Crown of Spain, which, without investing money, had a war fleet, also obtaining part of the booty.
Collection: Images
Project: 7. Persecuted by justice and powers: rebels, political dissidents and criminals in the history of Europe., 9. Travels and travelers: economic, social and cultural connections.
Chronology: XVIII
Scope: Baccalaureate, University
Link: http://pares.mcu.es/ParesBusquedas20/catalogo/show/20674?nm
Resource type: Image
Format: Paper
Source: Archivo General de Indias. Mapas, planos y documentos iconográficos y documentos especiales. Ingenios y muestras.
Language: Spanish
Date: 1771
Owner: María del Mar Felices de la Fuente (Modernalia)
Identifier: ES.41091.AGI//MP-INGENIOS,301
Copyright: MECD. Archivos Estatales (España).
Abstract: Privateering patent granted by Charles III, which is part of a set of several patents he granted around 1771. The upper part shows the side view of a ship which, together with the border headed by the Royal Arms, serves as ornamentation for these patents. The patent was engraved by Hipólito Recarte.
Image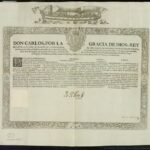 Tags