Oscar-winning film and sequel to the film Elizabeth. It is based on the events of the reign of Elizabeth I of England, paying particular attention to her relations with Philip II, the king of the Spanish Monarchy. It also deals with the Queen's marriage and presents a picture of the Elizabethan court. Other passages appear in the film, such as the execution of Mary Stuart or the intervention against the Great Armada, the so-called Invincible Armada.
Collection: Aplications
Project: 4. Family, daily life and social inequality in Europe., 8. Women and the change for gender equality in Europe.
Chronology: XVI
Scope: Secondary Education, Baccalaureate, University
Link: https://es.wikipedia.org/wiki/Elizabeth:_la_edad_de_oro
Resource type: Video
Format: Multimedia
Source: Movistar +
Language: Spanish
Date: 2007
Owner: Antonio Carrasco (Modernalia)
Copyright: Shekhar Kapur
Abstract: Film based on the reign of Elizabeth I of England.
Image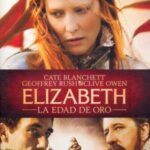 Tags