In 1607, three English ships financed by the London Virginia Company cross the Atlantic in search of treasure they believe to be in the New World. They reach land near the James River in Virginia and found the settlement of Jamestown. Because of their aristocratic origins, the settlers have great difficulty surviving, while their dream of finding gold is extinguished. Captain John Smith organises an expedition, but the Powhatan tribesmen attack them, killing all except Smith. The natives take him to their village and there he meets the chief's daughter, Pocahontas, who teaches him the culture and customs of her people. A few months later, loaded with enough food to ensure the settlers' survival through the winter, he returns to the Jamestown settlement. The following spring, Chief Powhatan discovers that the settlers intend to stay and prepares for war. However, Pocahontas alerts Smith to her father's plans, and when the attack fails, Powhatan realises that his daughter has betrayed him and banishes her forever.
Collection: Aplications
Project: 5. Power and powers in the history of Europe: oligarchies, political participation and democracy., 6. Under a cloak of terror: violence and armed conflict in Europe., 9. Travels and travelers: economic, social and cultural connections.
Chronology: XVII
Scope: Secondary Education, Baccalaureate, University
Link: https://es.wikipedia.org/wiki/El_nuevo_mundo
Resource type: Video
Format: Multimedia
Source: Amazon Prime Video
Language: Spanish
Date: 2005
Owner: Antonio Carrasco (Modernalia)
Copyright: Terrence Malick
Abstract: Film depicting the landing of the English in North America and the founding of Jamestown in Virginia.
Image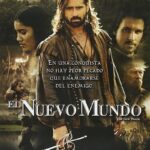 Tags