The investments of the small merchants, aimed at forming manufacturing infrastructures, had a direct impact on the guild workforce and certain segments of the peasantry. However, the Enlightenment philosophy planned a type of manufacturing to be encouraged: the model of popular industry. This was to fulfil a dual function: not to modify the relations of production and to prevent the concentration of workers in order to avoid unitary channelling. The period 1720-1760 was the period that revolved around the development of craftsmanship, as its consolidation was manifested by the clear predisposition of the Mallorcan ilustrados to encourage textile activities. On the other hand, there was a preference for coarse manufactures, goods with low opportunity costs, as they were made at the end of the day in the fields and, in certain cases, during the same day. Between 1794 and 1820, the specialisation in wine-growing led to the existence of carob trees, fig trees, fruit trees… Almonds and derivatives of wine-growing, mainly eau-de-vie, were marketed.
Collection: Statistics
Project: 2. Social and economic impact of technological revolutions in Europe., 9. Travels and travelers: economic, social and cultural connections.
Chronology: XVIII, XIX
Scope: Secondary Education, Baccalaureate, University
Link: https://www.cambridge.org/core/journals/revista-de-historia-economica-journal-of-iberian-and-latin-american-economic-history/article/abs/manufactura-textil-y-comercio-en-mallorca-17001830/25013C6333F8118875B3465F8511800D
Resource type: Statistics
Format: Table
Source: Manera, Carles, «Manufactura textil y comercio en Mallorca, 1700–1830», Revista de Historia Económica, Journal of Iberian and Latin American Economic History, 6, 3 (1988), pp. 523–555.
Language: Spanish
Date: 1988
Owner: Álvaro Romero González (Modernalia)
Copyright: © Carles Manera, © Revista de Historia Económica
Abstract: Textile, foodstuffs and other exports from the port of Palma de Mallorca in the early 18th century
Image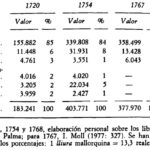 Tags