The safety and security of the house was the concern of every family. A good door was accompanied by window guards. These had to be made of a hard, weather-resistant material such as iron. The grille shown here corresponds to a window in El Bonillo. The element is made up of a rectangle with 7 vertical bars and 4 horizontal ones that cross them. All of this is framed in a frame attached to the wall. At the upper ends of the frame there are two figures in the shape of cones, which are joined to another central figure with two spiral ornaments.
Collection: Images
Project: 11. Science and culture as representation in Europe., 3. Rural world and urban world in the formation of the European identity.
Chronology: XVI, XVII, XVIII
Scope: Secondary Education, Baccalaureate, University
Link: http://iealbacetenses.dipualba.es/viewer.vm?id=0000040164
Resource type: Image
Format: Photography
Source: Hernández López, C. (2007). Calles y casas en el Campo de Montiel. Hogares y espacio doméstico en las tierras de El Bonillo en el siglo XVIII. Albacete: Instituto de Estudios Albacetenses, p. 515.
Language: Spanish
Date: 2006-2007
Owner: Pablo Ballesta Fernández (Modernalia)
Copyright: © Carmen Hernández López © Instituto de Estudios Albacetenses "Don Juan Manuel"
Abstract: Popular architecture. Photograph of the detail of an iron grille on a window in El Bonillo (Albacete).
Image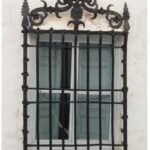 Tags