In the project of reconstructing Spanish foreign trade in the 18th and 19th centuries, one of the avenues to be explored is that provided by the foreign trade series of those countries linked to Spain. In this sense, Spanish-British trade leads to the study of centre-periphery relations in Europe, before, during and after the English Industrial Revolution. In order to obtain an annual series of Spanish imports from Britain for domestic consumption, the percentages of re-exports over different periods have been highlighted. Between the years 1714-1755, the average of 1738 and 1794; for 1756-1779, the average of 1761 and 1771, and for 1783-1814, the percentage of 1792. Between 1815-1823, which preceded the definitive independence of the Spanish colonies in the Americas, re-exports were shown to fall as Britain's direct trade with Latin America grew considerably, arbitrarily adopting a percentage of 10% of total imports from Britain.
Collection: Statistics
Project: 2. Social and economic impact of technological revolutions in Europe., 9. Travels and travelers: economic, social and cultural connections.
Chronology: XVIII, XIX
Scope: Secondary Education, Baccalaureate, University
Link: https://www.cambridge.org/core/journals/revista-de-historia-economica-journal-of-iberian-and-latin-american-economic-history/article/abs/el-comercio-hispanobritanico-en-los-siglos-xviii-y-xix-i-reconstruccion/EDBEA7B59E7CCACAC8587088A27A66D4
Resource type: Statistics
Format: Table
Source: Prados de la Escosura, Leandro, «El comercio hispano–británico en los siglos XVIII y XIX: I. Reconstrucción» Revista de Historia Económica, Journal of Iberian and Latin American Economic History, 2, 2 (1984), pp. 113–162.
Language: Spanish
Date: 1984
Owner: Álvaro Romero González (Modernalia)
Copyright: © Leandro Prados de la Escosura, © Revista de Historia Económica
Abstract: Percentages of trade between Spain and the United Kingdom in the 18th century
Image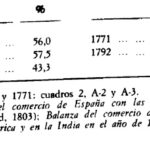 Tags