Television series depicting the life of King Henry VIII of England. It consists of 4 seasons and 38 episodes. The historical reconstruction is very gimmicky and the series has many historical inaccuracies. Rigour is sacrificed to the extent that the series becomes more of a visual spectacle of historical setting than a portrait of one of the most prominent monarchs of the 16th century.
Collection: Aplications
Project: 5. Power and powers in the history of Europe: oligarchies, political participation and democracy., 6. Under a cloak of terror: violence and armed conflict in Europe., 7. Persecuted by justice and powers: rebels, political dissidents and criminals in the history of Europe.
Chronology: XVI
Scope: Secondary Education, Baccalaureate, University
Link: https://es.wikipedia.org/wiki/Los_Tudor_(serie_de_televisi%C3%B3n)
Resource type: Serie
Format: Multimedia
Source: Amazon Prime Video
Language: Spanish
Date: 2007
Owner: Antonio Carrasco (Modernalia)
Copyright: Showtime
Abstract: Television series based on the reign of Henry VIII of England.
Image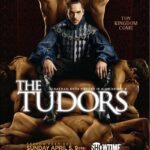 Tags