The image shows the work by Pedro Tortolero (1738), entitled: "Entry of Our Catholic Monarch H.D. Fhilip V, his Royal Family and entourage into the Most Noble and Most Loyal City of Seville, on the third of February in the year 1729". During the five years 1729-1733, also known as the Royal Five Years in Seville, the Spanish Court moved from Madrid to Seville, where it resided until 16 May 1733. This was an unusual event, as the court had only previously moved to Valladolid at the beginning of the 17th century. The arrival of the first Bourbon to the city of Seville was a very important event, and the streets and buildings of the city were decorated to welcome the royal retinue, which entered through the Triana district in a luxurious carriage. They were followed by a hundred or so carriages filled with princes, princesses, princely princes, princely princes' lords, high court officials and the rest of the entourage. The royal family settled in the Reales Alcázares, and a few days later they would leave for Cádiz to see the entry of the fleet of galleons from America. On their return, and during their stay in Seville, numerous festivities and religious events were held, as well as banquets, dances and other celebrations. From there, the king would visit other places such as Granada, Jaén, El Puerto de Santa María and Cazalla de la Sierra. The reasons for the Court's relocation are not clear. It is thought that it may have been due to the monarch's delicate mental health, or to the desire to promote the city after having moved the Casa de la Contratación to Cádiz a few years earlier. One way or another, what is certain is that the royal stay in Seville had an important impact on the region and especially on the city, where the construction of numerous civil and religious buildings was promoted, such as the Real Maestranza de Caballería, the Real Fábrica de Tabacos, the Hospital del Buen Suceso and the Church of San Luis de los Franceses, among others.
Collection: Images
Project: 5. Power and powers in the history of Europe: oligarchies, political participation and democracy.
Chronology: XVIII
Scope: Secondary Education, Baccalaureate, University
Link: http://www2.ual.es/ideimand/portfolio-items/entrada-de-felipe-v-en-sevilla-en-1729/?portfolioCats=25%2C50%2C26%2C382%2C27%2C53%2C28%2C29%2C21%2C20%2C30%2C31%2C32
Resource type: Image
Format: Unknown
Source: Biblioteca Nacional de España. Proyecto Identidad e Imagen de Andalucía en la Edad Moderna. Universidad de Almería.
Language: Spanish
Date: 1738
Owner: María del Mar Felices de la Fuente (Modernalia)
Identifier: IMG_8892
Copyright: Biblioteca Nacional de España
Abstract: Fhilip V's entry into the city of Seville, where the Court moved between 1729 and 1733.
Image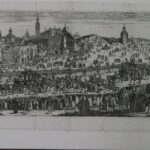 Tags