The Mainland Galleons were the ships of the Carrera de Indias that linked Spain with the Viceroyalty of Peru. This fleet differed in part from the Fleet of New Spain, as it brought together the fleet of Tierra Firme, a convoy of merchant ships, and the Armada de la Guardia de la Carrera de Indias, a squadron that was destined for the military protection of the fleet in the Atlantic. These fleets transported silver from the main mining centres in Peru, such as Potosí, La Paz and Oruro, which is why the Armada accompanied them, especially on their return to Spain. On their return journey, they were also joined by the fleet from New Spain. This combination of navy and fleet is known as the Tierra Firme galleons. On their journey to America, they left from Andalusia, stopped in the Canary Islands and from there they travelled mainly to the ports of Cartagena de Indias and Nombre de Dios, which in the 17th century was replaced by Portobelo. Over time, Peruvian trade caused the crisis and early disappearance of the Tierra Firme galleons and Portobelo fairs, as the Atlantic trade was progressively abandoned and the Pacific trade became more important, seeking the Pacific Race to the Philippines and China and the supply of European goods through Mexico and the fleets of New Spain. This new design led to the slow languishing of the galleons in the late 17th and early 18th century until they were finally scrapped in 1739. The image shows the plan of the galleon "Nuestra Señora del Mar", one of those of the Armada of General Marqués del Vado, which was wrecked in the Gulf of Bermuda, its captain and owner being Admiral Francisco de Pineda. It shows how the galleon, which has four masts and sails hoisted, is surrounded by five boats where most of the crew have been assembled, while some of its members are lowered into them by ropes. There is a large amount of water coming out of the scuppers.
Collection: Images
Project: 9. Travels and travelers: economic, social and cultural connections.
Chronology: XVI, XVII, XVIII
Scope: Primary Education, Secondary Education, Baccalaureate, University
Link: http://pares.mcu.es/ParesBusquedas20/catalogo/show/12777187?nm
Resource type: Image
Format: Paper map, 41,5 x 61,5 cm.
Source: Archivo General de Indias. Mapas, planos, documentos iconográficos y documentos especiales. Ingenios y muestras.
Language: Spanish
Date: 1695
Owner: María del Mar Felices de la Fuente (Modernalia)
Identifier: ES.41091.AGI//MP-INGENIOS,318BIS
Copyright: MECD. Archivos Estatales (España).
Abstract: Mainland Galleons of the Carrera de Indias
Image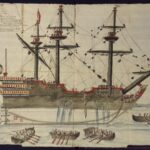 Tags