The demand for agricultural wage labour was highly seasonal, limiting the possibilities of converting it into a regular source of income. The development of agrarian capitalism contributed to this, which led to a productive specialisation in which the participation of women was lower than in the manufacturing and service sectors. The S'Estorell estate was located in the parish of Binissalem, at the foot of the Tramontana mountain range, and was the largest estate in the municipality and one of the ten most profitable on the island, with a valuation of 52,000 pounds according to the land registry of 1685. It covered 520 hectares, occupying the valley of Almandrá up to the first peaks of the mountain range in the villages of Alaró and Selva. The olive grove absorbed practically 90% of the daily wage labour, followed at a great distance by the cultivation of cereals (6.8%) and work in orchards or vineyards (1.8%). These tasks were carried out 69.8% by women, 20.5% by adult men and 9.75% by children. In this sense, the feminisation of day labour was very high, although unevenly distributed between tasks and crops. Female and child labour was almost entirely devoted to olive and carob harvesting, with hardly any participation in soil maintenance work. The male labour force, however, was hired for the more specialised work in the canopy of the olive groves and to plough carob trees, but also for unskilled work in the olive groves, such as weeding. In the harvest, however, female workers accounted for half of the workforce, although in a smaller proportion in terms of the number of days worked (44%).
Collection: Statistics
Project: 3. Rural world and urban world in the formation of the European identity., 4. Family, daily life and social inequality in Europe.
Chronology: XVII
Scope: Secondary Education, Baccalaureate, University
Link: https://www.historiaagraria.com/FILE/articulos/RHA80_jover_pujadas.pdf
Resource type: Statistics
Format: Table
Source: Jover–Avellà, Gabriel y Pujadas–Mora, Joana María, «Mercado de trabajo, género y especialización oleícola: Mallorca a mediados del siglo XVII», Historia Agraria, 80 (2020), pp. 37–69.
Language: Spanish
Date: 2020
Owner: Álvaro Romero González (Modernalia)
Copyright: © Gabriel Jover-Avellá, ©Joanna María Pujadas-Mora © Revista de Historia Agraria
Abstract: Distribution of male, female and child labour in a seventeenth-century Mallorcan region
Image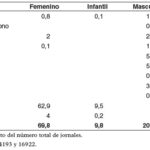 Tags