The graph shows that among men there was no direct connection between access to marriage and the abandonment of servant work. The three provinces with the highest number of servants (Madrid without the capital, Toledo and Albacete) show how the age of access to marriage is among the lowest in Castile, only surpassed by Ciudad Real, Extremadura, Andalusia and Murcia. The latter had the lowest percentage of servants; a fact that put it in line with the central and northern regions of the peninsula. Of all of them, Galicia, Asturias, León and Burgos stood out for having few servants and a high rate of marriage access (over 24 years of age). The demography, socio-economic structure and life cycles are reflected and differentiated geographically in this graph.
Collection: Graphics
Project: 3. Rural world and urban world in the formation of the European identity., 4. Family, daily life and social inequality in Europe.
Chronology: XVIII
Scope: Secondary Education, Baccalaureate, University
Link: https://www.mundoagrario.unlp.edu.ar/article/view/MAe071/9057
Resource type: Graph
Format: Bar and lines chart
Source: García González, F. (2017). "Sirvientes y criados en el mundo rural de la España interior, 1700-1860. Desigualdad social y dependencia", en Mundo Agrario, vol. 18, nº 39, p. 10.
Language: Spanish
Date: 2017
Owner: Pablo Ballesta Fernández (Modernalia)
Copyright: © Francisco García González © Mundo Agrario, 2017
Abstract: Contrasts between North and South Castilian between the number of servants and the age at which women enter into marriage
Image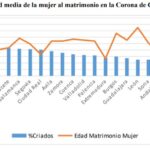 Tags